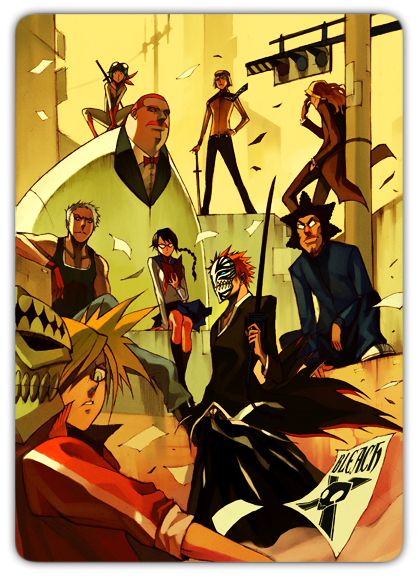 This thread is designed to act as a guide for 1st Division members wanting to become a vizard within the division. Please remember that you must complete a series of "steps" before you're able to utilize your hollow powers freely and effectively. If you still have any questions, feel free to contact me via PMs or VMs.
Now for those of you who are wondering what a Vizard is, (which I highly doubt, unless you've never watched/read Bleach, and if that's the case... unacceptable, get out. D:) then here's the information directly from Bleach Wiki.
Quote:
Originally Posted by Bleach Wiki
The Vizard masked army (仮面の軍勢, kamen no gunzei), it is pronounced as the English visored (ヴァイザード, vaizādo). Is a Shinigami that has acquired Hollow powers. Following the Fake Karakura Town Battle they have become central combatants against Aizen's Espada.
You may be asking, what are the advantages and disadvantages of becoming a Vizard? Well for starters, the advantages you gain are having a cool, custom mask (like on Bleach), being proclaimed as a Vizard, and a few new abilities/augmentations when you're in your Vizard form. The disadvantage for becoming a Vizard is, after using said new abilities and augmentations, you'll be weakened afterwards, which will have a considerable effect on you the lesser you have control over your inner-hollow (which is determined via your RYC and training).
So how exactly do you become a Vizard? Read the steps below.
You must obviously have the desire to become a Vizard, and you must PM/IM/VM myself or Jeff (preferably), saying "SK/Jeff, I want to become a Vizard" or something along those lines, so that we will monitor you as you're doing the next few steps.
You must be in a spar (any spar) and become on the verge of death, which is when your inner hollow will take over your body (similar to when Ichigo fought Byakuya with the "half-mask"). This will be considered the first appearance of your inner hollow.
At virtually random moments, you can have your inner hollow speak to you and you won't know who it is. While in 5 spars and with the consent of your opponents, have the half-masked version of it appear. This will be used to evaluate how well you can handle being a Vizard, and whether or not you use it simply to GM (God Mode) your opponent(s).
You will make a request to myself or Jeff explaining where you wish to fight your inner hollow while others fight you externally (in other words, your outside body) while you fight your inner hollow until you establish dominion/control over it. After finishing, you will be proclaimed as an official vizard.
Also remember that during your first spar (second step), you do not know your inner hollow yet. So don't communicate with it until
after
you're on the verge of death and
after
the inner hollow has taken over.